Stop ETP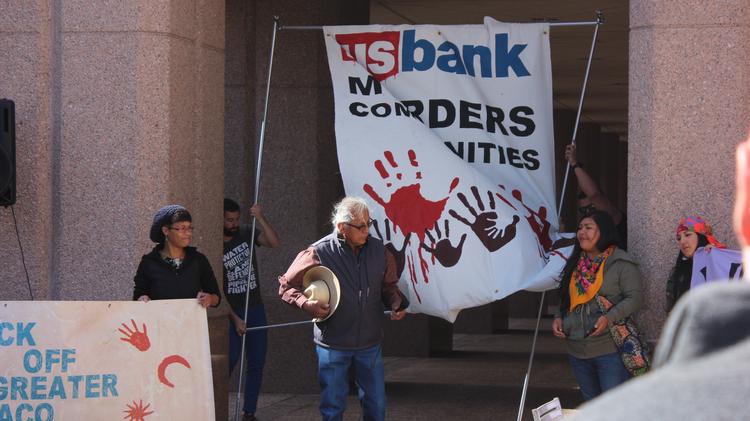 Chants of "you can't drink oil, keep it in the soil" blared over a loudspeaker Tuesday outside of Albuquerque Plaza, which were followed by loud cheers and honks of the horn from cars passing by.
About 50 protesters and activists were trying to get the attention of anyone who would listen, but primarily, the focus was to get the attention of those participating in U.S. Bank's annual shareholders meeting inside of Albuquerque Plaza. Indigenous and environmental justice groups organized a rally outside of the Albuquerque Plaza in response to the bank financing $2 billion for pipeline companies like Energy Transfer Partners and others, after the bank said last year it would stop financing pipeline construction.
In a statement Monday afternoon before the rally, a U.S. Bank spokesperson said the organization did not have a comment on the rally.
Some speakers told personal stories on how their tribe, which ranged from the Dakotas to Louisiana, had been directly affected by the fracking in oil-rich areas, while others said this was a rallying point to unite to save their lands.
A graphic sign that read "U.S. Bank Murders Communities" with red, bloody, hands was positioned behind the many speakers at the rally. Tensions heightened when the front doors to the Albuquerque Plaza were locked.
"We demand that shareholders of U.S. Bank and also the state of New Mexico, engage in meaningful tribal consultation and consent from the indigenous communities who are directly impacted by fracking and other extractive activities," Julia Bernal, co-director with the Pueblo Action Alliance said in a statement, "and that we make the just transition from oil."
Ward McCartney of 350 New Mexico, the Land of Enchantment's chapter of 350.org, which works to spread climate change awareness, said he wanted to come to the rally in support of New Mexico and the rest of the country moving toward renewable energy sources. He, along with several others, donned green vests that read "Earth Team" on the back.
Dakota Rubio, an activist, came out to the rally in hopes of the shareholders adopting a new line of thinking.
"It gets people thinking. That's all that you need to do. As long as your getting your word the ideas across, it works," Rubio said. "If you have 100 people here and they're all mad about one thing, (businesses) have to re-evaluate that because then it could turn into something else."
U.S. Bank has $1.52 billion in local deposit volume, according to Albuquerque Business First's List of Largest Banks in New Mexico.

By
Ron Davis
Reporter, Albuquerque Business First
Updated